Nedávno uniklo tajné video z prostredia GLK.
Video je trailer k prvej časti veľkej ságy, k 120-dielnemu seriálu z prostredia GLK s pracovným názvom "Geriatrici na skalách". Odhaľuje šokujúce informácie o vzniku GLK, o poslaní krúžku, o temnej histórii niektorých jeho členov aj o ich športových a pracovných aktivitách.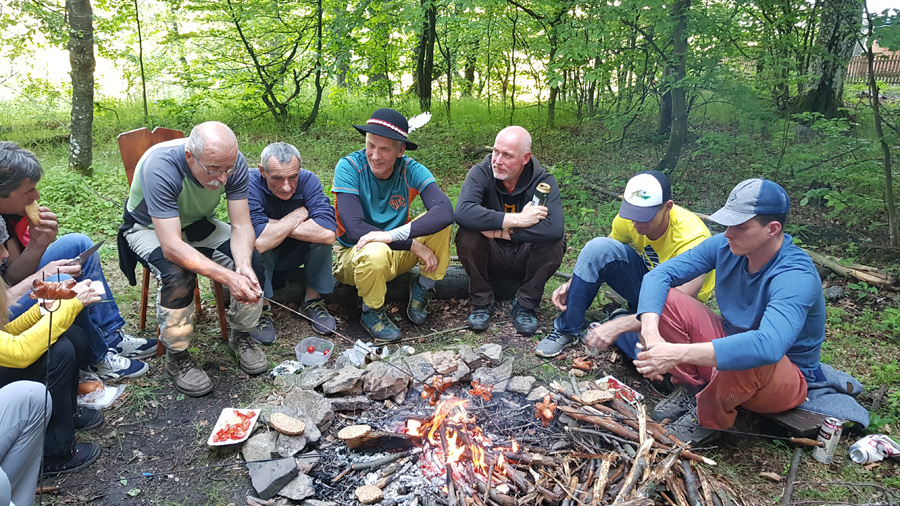 Herci, komparz a štáb počas prestávky v nakrúcaní.
Zo zatiaľ uniknutých skúpych informácií bude seriál nadväzovať na populárnu sériu Avengerov. Po porážke hlavného zloducha Thanosa sa negatívna rola ušla chuderke Starobe. Tá sa po neúspešnom boji s Večnou Mladosťou uchýlila vysoko do hôr a zatrpknutá začala škodiť celému ľudstvu. Najprv si vybavila účty s Večnou Mladosťou, ktorú poslala do Večných Lovíšť. Potom začala postihovať ľudí a najmä tých s vyšším vekom. Postihnutým Staroba brala postupne pamäť, kognitívne, reprodukčné a iné fyzické schopnosti. Aby sme boli spravodliví, na druhej strane ich štedro obdarúvala. Roztržitosťou, mentálnou únavou, stratou orientácie v časopriestore, šedinami, vráskami a pod. Na boj so Starobou za záchranu ľudstva vznikol v Karpatskej kotline krúžok z členov, ktorým Staroba najviac ublížila.
Poraziť Starobu však nebolo jednoduché. Starodobí Avengeri museli nájsť v sebe zázračné schopnosti a vyzbrojiť sa ešte zázračnejšími zbraňami. Pretože sídlo Staroby sa nachádzalo vysoko v horách, museli sa členovia zdokonaliť najmä v lezení. K zázračným lezeckým schopnostiam im pomohla najmä zmena DNA po výbuchu v Černobyle a výcvikové centrá tajných polocivilných organizácií s nič nehovoriacimi názvami V1 a K2.
Hľadaním zázračných zbraní sa venuje takmer celých prvých 50 dielov. Po strastiplných útrapách, nekonečných bojoch s Reálnym Životom a Neúprosným Osudom, po prejdení Stredozeme, Mordoru, Štokeravskej Vápenky a Krvavých Šenkov, naši hrdinovia po návrate zistili, že zázračné zbrane majú doma rovno pod nosom. Sú to smiech, veselá nálada, optimizmus, sranda zo seba ale najmä z druhých, recesia a pivo.
Ako to celé dopadne, tvorcovia zatiaľ neprezradili. Vieme len, že pripravujú ďalšie 120-dielové série, takže to vyzerá, že konflikt so Starobou tak skoro neskončí.
Niektorí zasvätenci tvrdia, že už boli natočené aj posledné zábery celej ságy. Vraj je to pohľad na slnko zapadajúce nad Rozptylovou Lúkou.
Z krátkej ukážky je zrejmé, že sa do hlavných postáv podarilo obsadiť najväčšie hollywoodske celebrity. Keďže sága bude vychádzať z reálnych udalostí a slovenského prostredia, snahou tvorcov bolo zachovať čo najväčšiu autenticitu postáv. Sedemnásobnému držiteľovi Oscara za najlepšie masky Rickymu Bakerovi sa však práca príliš nevydarila. Aj napriek dokonalému maskovaniu a špičkovej digitálnej animácii sú v hlavných úlohach jasne rozoznateľní Harrison Ford, Paul Newman, Mireille Darc a v pozadí sa mihol aj Sean Connery. Pozorný divák by si ich ťažko zidentifikoval napríklad s Pedrottim, Náčelníkom Rudigerom, či s Ivet. Ako povedal nemenovaný zdroj z prostredia americkej Akadémie filmových umení a vied: "V súťaži o Oscara by ich porazil aj tohtoročný máj za najlepšie stvárnenie novembra."
Réžiu megaprojektu zverili štúdiá skúsenému režisérovi Jožovi K. (mýliť si prosím s Kubrickom). Talentovaný režisér má za sebou vyše tisícdielny seriál z horského prostredia, ktorý nakrúcal niekoľko rokov často s nasadením vlastného života. Hlavná idea seriálu – boj so Starobou mu je veľmi blízka, v súčasnosti sa podieľa aj na písaní scenára k niektorým dielom.
Dielo ašpiruje na Oscara za výpravu. Tvorcom sa podarilo vytvoriť dokonalé kulisy v prírode, na nerozoznanie od reálií. Sú vytvorené prevažne z prírodných materiálov, ktorým dominujú vrstvy pyroxenických andezitov, striedajúcich sa s polohami tufitov, tufov a aglomerátov. Tie vystupujú v teréne v podobe stupňovitých, hrebeňovitých foriem, ako výsledok inverzie reliéfu. Popretkávané sú nerezovými ozdobami rôznych tvarov od jednoduchých očiek až po zložité baranie rohy, či prasacie chvostíky. Kolorit zabezpečujú kde-tu vytekajúce kúsky lepidla Hilti, a bohato zabielené chyty.
Stavba takýchto kulís bola časovo aj odborne veľmi náročná. Začala sa už v neogéne, mladších treťohorách. Okrem tradičného náradia – lopata, krompáč, boli použité aj zložitejšie technológie, napr. sopečná aktivita na vytvorenie stratovulkánu, erózia, tektonické pohyby, denudácia a lano na toprop.
Celá sága sa bude distribuovať pod názvom "Horizontál limit." Nakrúcajú ju hollywoodske štúdiá v koprodukcii s nemenovanou slovenskou TV JOJ. Zrejme z jej prostredia unikol dosiaľ nezverejnený trailer. Alebo aj nie. Možno ho len nejaký snaživý investigatívny novinár našiel na USB schovanom v istom trezore.
Video je k nahliadnutiu tu. Jeho pozeranie je len na vlastné nebezpečie, GLK neručí divákom za stratu ilúzií, radosti zo života a mentálne postihnutie.
Peter